Just because a Bento Box is considered Japanese, it doesn't mean you have to put only japanese food in your bento box. You can obviously put anything that you enjoy eating in your box. There are actually some set rules for the content of the box for the japanese version (proportion of proteins and carbs etc) but as long as you avoid pre-prepared foods (ok, like hot dogs) then you are pretty sure to be making a healthy lunch. The whole point of bento boxing is taking the time to prepare a healthy meal and creating something pleasant to look at too.
Since it may or may not be possible to heat up your food in a microwave (both because not all of us have access to a microwave oven but also because not all bento boxes are microwavable), you should think "tepid" or cold food combinations. To give you an idea of a cold food combo, here was my garden bento with tuna salad (seen in last blog post).
Just normal tuna with mayo and on top a little red pepper and carrots cut into little stars. I added the seaweed for decoration.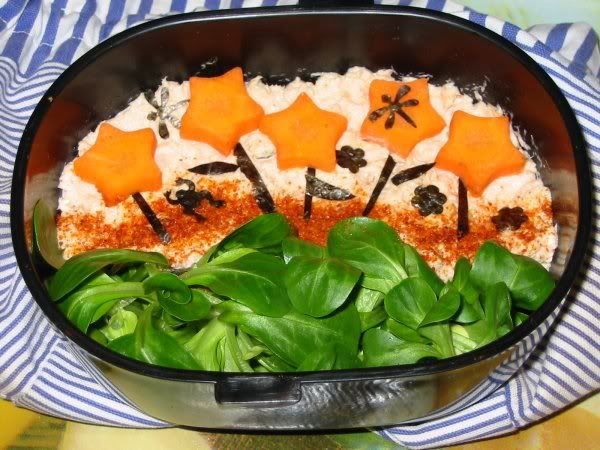 Here is another quick bento box of mine with "crab legs" (the imitation crab fish sticks) garnished with stewed spicey seaweed and marinated citris daikon (which is a kind of radish), a side dish of steamed asparagus covered in spinach and sesame seeds. For fruit, I found lychees which I love. Notice the sauce bottles.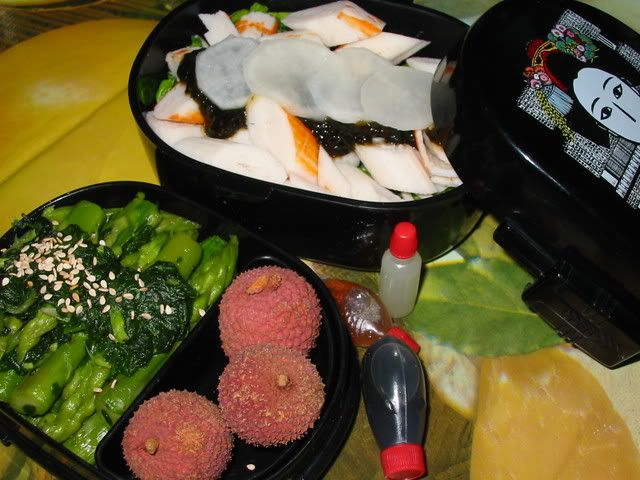 You could substitute the stewed seaweed with tartar sauce and the daikon with just regular radish cut into discs. It doesn't have to get complicated.
And this bento was prepared the night before. I just got some regular white fish (like haddock filets) and dredged them in seasoned whole wheat flour (you can add thyme, rosemary, basil flakes, whatever, to the flour and mix it around). Shake them off and quickly cook them in olive oil. They come out crispy but without a coating which can be heavy. Pat dry and cut the filets into bite-sized pieces, lay them on top of a bed of salad of some kind when they've cooled off and garnish them with stewed seaweed or whatever you like on fish. As a sidedish I made some red azuki beans (cooked with soy sauce and sugar), my daikon radish cut into julienne, hot green peppers all laid on top of soy spaghetti. You could simply buy some slaw as a side dish. I also added a little bit of wild boar sausage (or, as we know it, pepperoni) for a different taste. This is a bento that is best served tepid.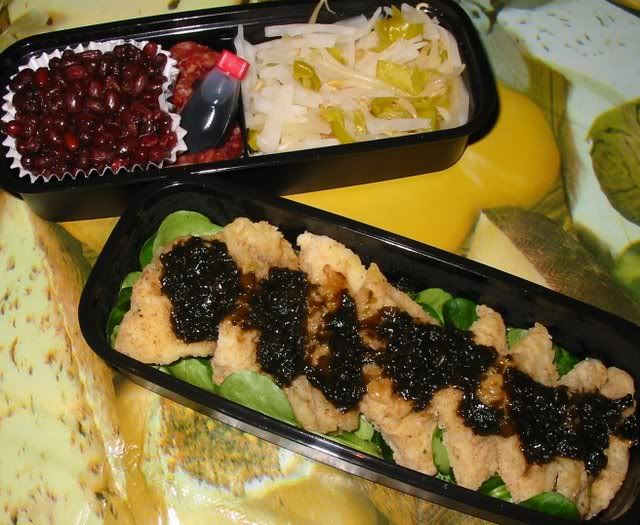 As you have seen, the trick is often to prepare a certain amount of side dishes ahead of time. When I found the daikon for example, I cut it all up into little pieces and threw it into a jar to marinade (sushi vinegar, water, salt, sugar, lemon peel and orange peel) and I can continue to use that as a garnish for quite a while. Same goes with the stewed seaweed. Just a little goes a long way. You can buy lots of side dish items to use from the fridge straight to the bento. Pickles, peppers, olives.....I even found these little spicey fish filets in their own individual packets.
Same goes for fruit. I located indiviudally wrapped dried prunes ! Kewl.
So, to get you started, here is a little recipe for a side dish or garnish that you can make and then store in the fridge. Thanks to the book
BENTO BOXES Japanese Meals on the Go by Naomi Kijima
which has a ton of ideas for bento boxing.
SHRIMP SPRINKLES
"Sprinkles keep in the fridge for up to a week and make a delicious combination with any of the side items....

4oz shrimp, peeled and deveined.
1 Tbsp each sugar, mirin and sake (you can find in the grocery store),
1 Tbsp water,
Salt

1. Boil the shrimp, drain and mince into little tiny pieces.
2. Put the shrimp in a pot with the remaining ingredients. Bring to a boil. Stir until the liquid is absorbed. Cool."


This is today's bento (dedicated to my sister!) Again thanks to
E-obento
: