When putting together a bento, it helps to have certain kitchen tools to create interesting shapes and designs.
After surfing thru the internet, a few sites give some great ideas of what can be used to help you create an interesting bento both in content and design. For example, paper punches used in scrap booking are great for punching out different shapes from nori seaweed sheets. I located some pretty economical ones at a hobby store. There are stars and flowers, butterflies and insects and even letters so you can spell out messages or names to be used in the decoration of the bento food. Cookie cutters are fantastic for giving food nice shapes and trims.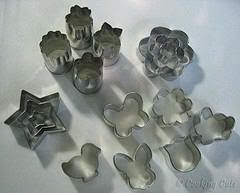 Even craft scissors are nice if you need to make strips of nori seaweed to use as decorations. This morning, with very little time on hand, I quickly pulled out this little garden :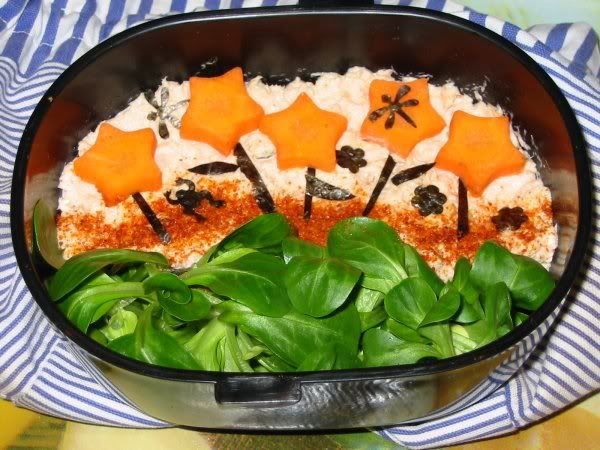 I used a regular food cutter for the carrots to shape them into stars. Nori seaweed for the flower stems, punch cutters for the dragon flies and frog. Using hot-pepper powder, I sprinkled a little to give the idea of soil and used salad for the garden leaves. Underneath is just regular tuna salad. You don't need much time or planning to pull this off.
Some other useful tools are cupcake papers or better, foil cupcake baking papers.
Or better yet, made from silicone that can be reused many times :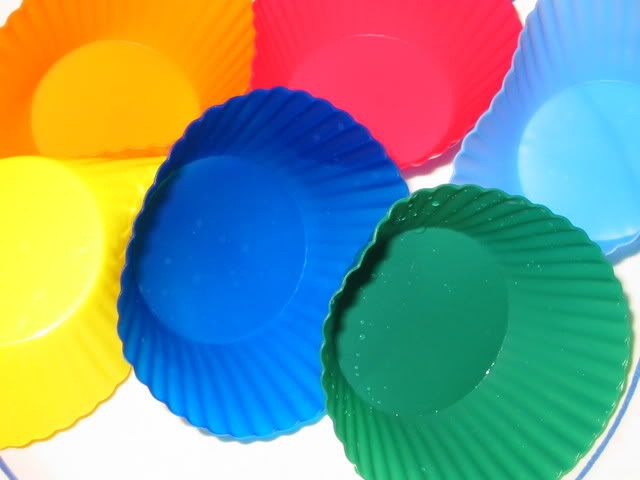 These fit in the box and isolate foods that may have been marinated in oil or other liquids to keep them from contaminating other foods in the box. Often artificial grass :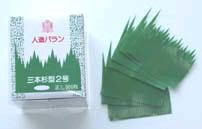 is used too. This is a good divider between two kinds of foods - perhaps one spicey and the other not - to keep them from rubbing together for unwanted mixing of flavors.
Skewers are another great idea. Making small meatballs and then creating mini keebabs with the skewers makes eating easier. Another must are rice molds.
If you like to have rice as a side dish (instead of the usual bread) you can buy these molds which can be used to make different shapes. You can also use your hands to shape the race but some of the rice molds are cute giving you the opportunity to make little rice bears, stars, hearts, etc. with nori seaweed faces. Some bento boxes actually come with rice molds which can be pressed into the mound of rice in the box separating it and making it easier for eating either with chopsticks or a fork. (Rice here is usually intended sushi-type rice which tends to stick together very well anyway and makes for easy chop stick eating).
A really strange mold is the egg mold and a weiner mold pictured here :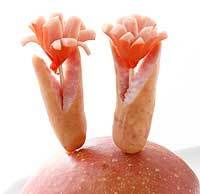 flower weiners.....
It works best with qual eggs or smaller size chicken eggs but comes in various types. I have some that once cooled, come out with a panda or teddy bear face which you can then decorate with nori to enhance the face. You have to put it in the mold while hot, otherwise it won't work . But the final effect is fantastic! I also found a microwave egg cooker which makes an egg super fast and perfect every time. Small trick is to wipe a bit of oil in the egg cooker so that once cooked and cooled, it will slide out easily and fit straight into a cupcake paper. Also remember to break the yolk with a toothpick before cooking and cook on the outside of the rotating dish, otherwise the egg will explode.
Purchasing small sauce containers seems silly but it's a life saver.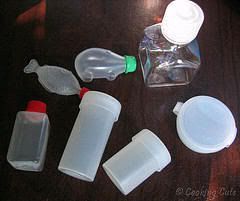 You can easily find places on Ebay that will sell packages of 15 or more in one lot. Check out
Asian Utensils
for accessories like sauce bottles and artificial grass. Some sellers are even offering a few sauce bottles when you purchase a bento set from them. You can put anything liquid that you normally use to season your food. It's always best to season when you are ready to eat instead of having something like rice sit in soy sauce all day only to be soggy when it's time to eat it. I put tobasco, soy sauce, seasame oil, lemon juice, you name it.
You can check out more by going to
Cooking Cute
's site and checking out her links. It's a great site and very much worth the visit !
Next time we will begin checking out some recipes so be back! Here's today's bento :